Retaining wall
Rretaining walls can be used in buildings with walls not strong enough to hold bulk pile or to separate the products. Support retaining wall in the shape of the letter "L" is made up of the bracket, diagonal supports and welded support plate with the profile in the shape of the letter "U". The elements are connected by means of three bolts. Optionally, it is possible to provide terminals for the storage filling and retaining walls loose hole.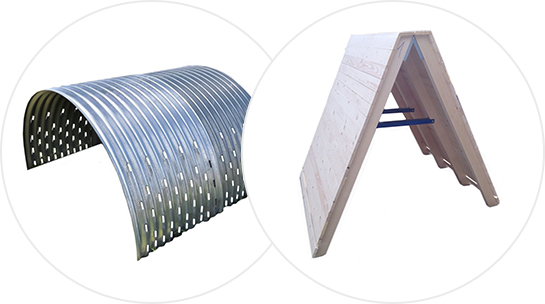 Air ducts
In order to ensure good ventilation of potatoes, onions and other products, Omnivent provides a semi-circular steel ducts and triangular channels of spruce wood. Variant steel is manufactured from galvanized steel corrugated profile. Perforations are on the sides for optimal ventilation product.
Wooden triangular channel halves are connected by hinges. Delivered them to slip or skid feet. In order to optimize air distribution from the inlet (the beginning of the channel) are getting smaller, until its completion.
Inlet and outlet hatches
Omnivent develops high-quality systems for air inlet and outlet. Such a system consists of one or more hatches operated by a rack and pinion system. Hatches are available in different sizes. There is also a large selection of different performances. Omnivent will be happy to advise you!
Cowls
The noise level in the ventilation systems plays an increasingly important role. For storage rooms where stringent noise standards are required, Omnivent offers a full range of noise reduction equipment.