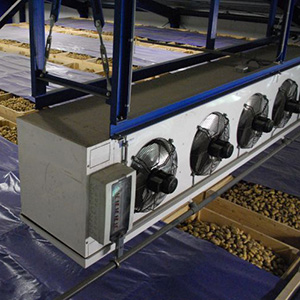 Cooling system is a more frequently installed component of the condition control system in vegetable storage. The use of mechanical cooling allows the conditions inside the storage chambers to be independent of external conditions. Thanks to cooperation with world leading manufacturers of compressors, coolers, condensers and refrigeration automation, we offer top-of-the-line appliances at affordable prices.

OmniFrigo - mobile ventilation and refrigeration units
Success in storing agricultural products depends primarily on the choice of suitable equipment. The OmniFrigo mobile refrigeration system, thanks to its innovative design, can be ideal for many of our customers. This device combines the benefits of mobile refrigeration appliances with a powerful ventilation system. Everything is mounted on a very solid frame made for the repeated movement of this device.

Its compact size and ease of installation reduce transportation and assembly costs at the customer.

Our projects can be viewed in the section GALLERY.