OmniCuro: Inteligent storage
OmniCuro is our latest solution for storage control. This innovative, fully automated product can be summarized in three words: simple, intelligent and yield-oriented.
The OmniCuro system is aimed at farmers all over the world who want to ensure the best possible conditions for drying, cooling and storing agricultural products such as potatoes or onions. OmniCuro is operated by touch screen and is made from very high quality materials. You can access your system from anywhere by using your tablet, smartphone or computer. Very intuitive operation and a clear menu make OmniCuro easy to use and does not require specialized knowledge.
Based on specific location parameters and by anticipating external factors such as weather conditions, OmniCuro itself suggests the appropriate storage system settings. These actions aim at optimizing the conditions under which agricultural products are stored and allow for additional energy savings.
ACT-40: Total control
After the ACT-10 and ACT-20, the ACT-40 is the third generation agricultural storage computer that proves its worth in practice.
High-quality technological storage and climate computer with years of experience integrated
Large graphic touch screen for a clear overview of all measured values and results
User-friendly by smart navigation through the program
Keep all your results and settings for accurate analysis
Detailed status reports with all vital information per chamber, inclusive of alarm and action reports
Direct access to your system via internet. All the time and everywhere. Via your computer or smartphone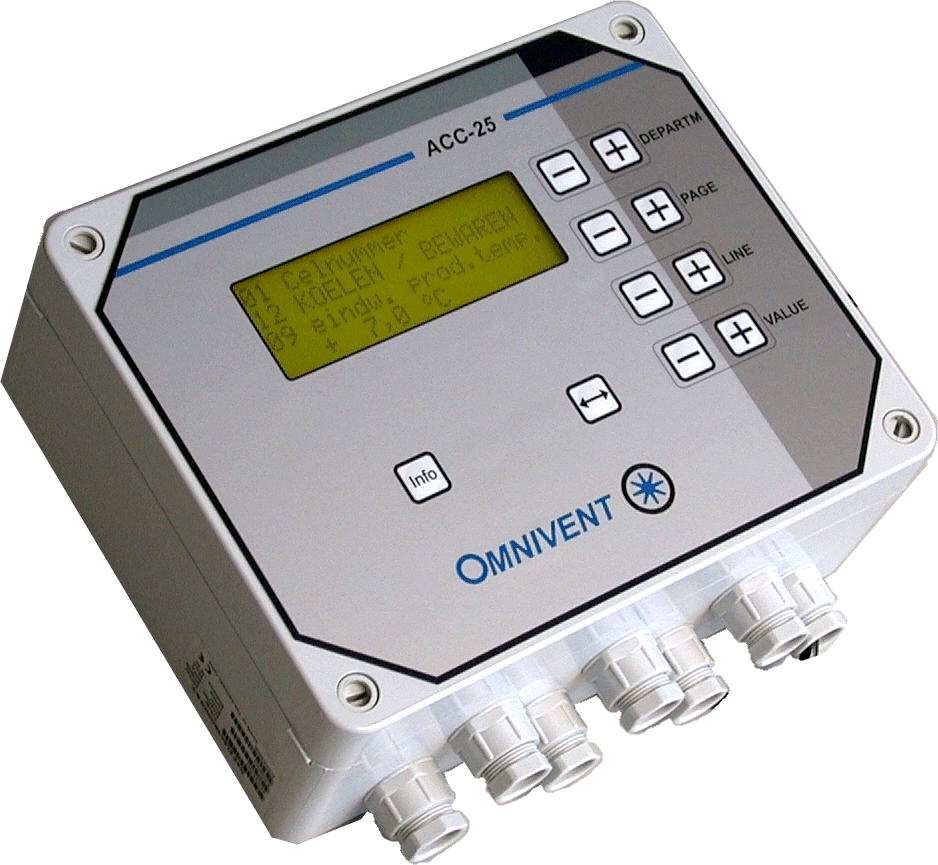 ACC-25: Perfect solution for smaller storages
The ACC-25 is a driver that is ideally suited for small storage facilities. It can control up to two cells with all system components such as fans, ventilation hatches, heaters, dehumidifiers, humidifiers or cooling systems.

This absolutely reliable unit still persuades many customers, and thanks to constantly updated software, even few years old construction still dominates over many competing devices.

This unit also cooperates with Optilink software so You are also able to use all benefits of PC software, such as creating databases, diagrams and many other.
Optilink: PC Software
Optilink is a software designed to give you access to ventilation systems and the opportunity for management through your computer. Optilink allows configuration, management, archiving and visualization of drivers work. Your store is under control thanks to our system, which uses a wired connection, or directly via the internet. Such a connection is also possible, via radio or GSM link. These tools give you the ability to track the processes taking place in your luggage from the beginning to the end of storage. Once configured the program will create charts that allow you to monitor the temperature in all the critical points, weight gain, humidity and more. With magnification options chart, you can determine the accuracy of the resulting problem and correct it before it becomes serious.